Coagulation Heart Attack and Stroke – Part 2
It is necessary to understand the interaction of fibrin coagulation pathways and platelet aggregation. Once we understand these interactions we can then discuss current treatment modalities. My goal is to show you a more creative and natural approach to anti-coagulation.
Initial Platelet Aggregation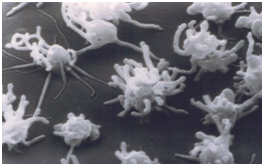 In part one I emphasized the importance of platelet aggregation as the initial step.  There is an initial injury to an arterial or venous wall.  As a response, activated platelets cause a clumping reaction to repair the injury.  Somewhat like Hans Brinker's "finger in the dike."
This injury could be a laceration. It could be a rupture of a atheromatous plaque. It could simply be a tear in an arterial wall.   Or simply from low-flow stasis.  Atrial fibrillation is an example.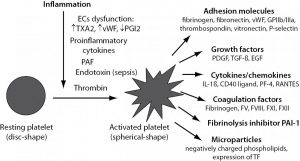 You can see from fig 2 above that the platelets initiate an array of reactions.  I will elaborate even more detail in the next post.  This is ever-increasing overview.
Aspirin is the most common drug to prevent platelet aggregation.  We will look at an array of  drugs that have been used over the years. But there is a more creative approach.
Once the initial platelet plug has formed the long-term fibrin coagulation pathway is initiated.  …