Minivelle Vivelle Short Supply
Minivelle Vivelle Short Supply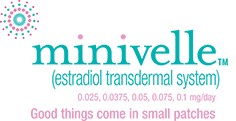 Minivelle and Vivelle are severely backordered. We have not been able to determine the source of this short supply. It emanates from the manufacturer. This is not a local pharmacy problem it is not a distribution problem. For obscure reasons it is not being manufactured. We have not seen any recalls.
The 0.1 mg dose is in most demand and in short supply. Many of you have been dispensed a generic form of estradiol patches. Mylan is the leading generic house. Generic patches are not the same as the proprietary drug — Minivelle or Vivelle dot.
Estrogen patches are not about the drug which is bioidentical. It is 17-beta-estradiol. That is bioidentical.  Biologically identical to your own internally produced hormones.  The FDA prohibits the manufacturer labeling this as bioidentical.    That is a legal-political issue.  Not a medical issue.

Dosing
The Minivelle and Vivelle dots are a patented delivery system.  It is unique.   It assures a constant stream of low dose estradiol (E2 estrogen) day and night. Climara is old technology.  You cannot dose once weekly.   The manufacturer, per FDA approval, recommends twice weekly dosing. That will translate to a 3 day leg and a 4 day leg. It does not last more than 3 days.   If you dose twice weekly then one day of the week you get nothing.  I do not recommend twice weekly dosing.
Over the years I have strongly advised dosing Minivelle or Vivelle every 3 days. That assures a more constant delivery of sufficient estrogen day and night. The generic patches may not even last for 3 days.
Alternative Minivelle Vivelle Resolution:
You have a few alternatives until this supply problem is resolved.
Apply 2 separate 0.05 mg patches changing every 3 days. Some women have noticed that 2 x 0.5 mg is more effective than 1 x 0.1 mg. Effect: increased cost.
Reduce the dose to 0.075 mg from 0.1 mg.  The 0.075 mg is not currently in short supply. Effect: decreased effectiveness.
If you are committed to the generic estradiol dot, consider changing every 2 days. Not every 3 days. Make sure this is the Mylan brand.  Effect: increased cost for more effectiveness.
Remember, estrogen is your friend.   Estrogen has 400 separate effects.   This story is to be continued.
This is an Dec 2022 update:   Vivelle is in very short supply again.  Many pharmacies either do not stock, will not stock or are unable.  As previously mentioned, the source of this shortage remains unknown.  Many will blame "supply chain shortage."  Because no insurance will reimburse Vivelle or Minivelle any longer, the number of prescriptions submitted have significantly declined.  There is still a difference between brand-name Vivelle and Minivelle, and generic.  With variations from patient to patient.  It is the patented delivery vehicle not underlying bioidentical estradiol brand-name that makes these a superior and more efficacious therapy.